Phase One of the new park between 800 and 900 East just North of the cemetery is completed. Two parking lots, stormwater retention basins, water lines and a 10-foot-wide sidewalk winding along the brow of the hill are in place; sewer and electrical utilities are stubbed in.
We are very grateful for RAPZ Grants which provided River Heights City $115,000 for this phase of the park. We hope to continue work on Phase Two next summer which will include: pavilion, restrooms and the rest of the sidewalks.
It's a beautiful setting for a park. Head up and take a look!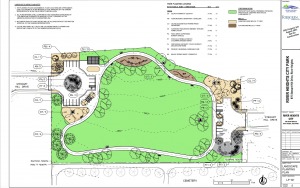 RH Boulevard Water Project
Construction on the River Heights Blvd Water Line Project between 4th and 5th East will begin Monday, Aug 22nd.
Water will be turned off on different days for two different areas – Riverdale Area, and River Heights Blvd between 4th and 6th East for a short period of time. Residents will be notified before the turn off date.
Thank you for your patience while this work is being done.